Applies to: Traditional Sleep Number mattresses
The foam comfort pad located underneath your mattress cover provides the majority of padding for your Sleep Number® bed. If the comfort pad in your bed develops a crack, tear, or has lost firmness it can cause discomfort. Please follow these steps to check your foam comfort pad for damage or compression.
Before You Begin
Remove all bedding from your mattress.
Set both sides of your bed to 100 while not in the bed.
Steps
1. Open your mattress cover.
Locate the zipper at the head of your bed and completely unzip. If the bed is a Duvet-style and has two zippers, unzip the top zipper.
Remove the top panel of the mattress cover and set it aside.
2. Check the foam comfort pad(s) for damage.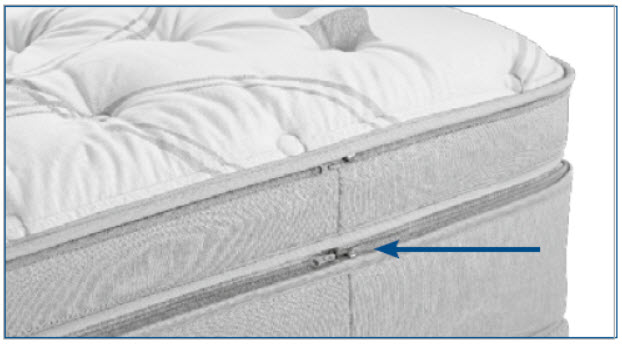 Carefully check your foam comfort pad for tears, rips, or other damage.
Tears may begin to develop in the bottom of the pad without ripping through the top. Flip it over and check the bottom as well.
3. Check the firmness of your foam comfort pad(s).
Place one hand under the corner for the foam comfort pad and your other hand on top of it so the pad is sandwiched between your hands.
Squeeze the pad between your hands to check the feel of the foam.
Move your hands to the area of the pad where the center of your body would be when lying down.
Squeeze the pad between your hands again. If the area is softer, less supportive, or thinner than the corner of the pad, your foam comfort pad may need to be replaced.
Note: You can help reduce wear and tear on your foam comfort pad by occasionally rotating the pad 180 degrees (so the head is at the foot and vice versa).  This step isn't required but may help prolong the life of this component.
If your foam comfort pad is damaged or has lost firmness, contact us with the results of your troubleshooting for further assistance.